Head over heels.
"Ma'am, you need to turn off your phone for landing," the airline stewardess addressed me personally tonight since I was obviously stuck in la la land. Yes, I was looking at my wallpaper of my iPhone AGAIN. Half my battery power the past few days has been lost because of all the sneak peeks gushing over my new wallpaper backdrop that I've been clicking on just to see the picture over and over again. Gosh, now I know how my clients feel anxiously waiting to see their pictures!
While I was in California again the past few days,
my love
and I had an impromptu photoshoot with the fabulous
Mike Steelman
. Mark and I really were just going out to dinner with Mike and his beautiful 8.5 month pregnant wife, but as Mike showed us around his cool ranch property beforehand, he couldn't help but grab his camera and soak up the pretty lighting that was about to set behind the mountain. And I couldn't help but grab Mark and smother him in some kisses for the camera.
Here's a teaser pic Mike sent us and I just wanted to show off my hot man and how happy he makes me.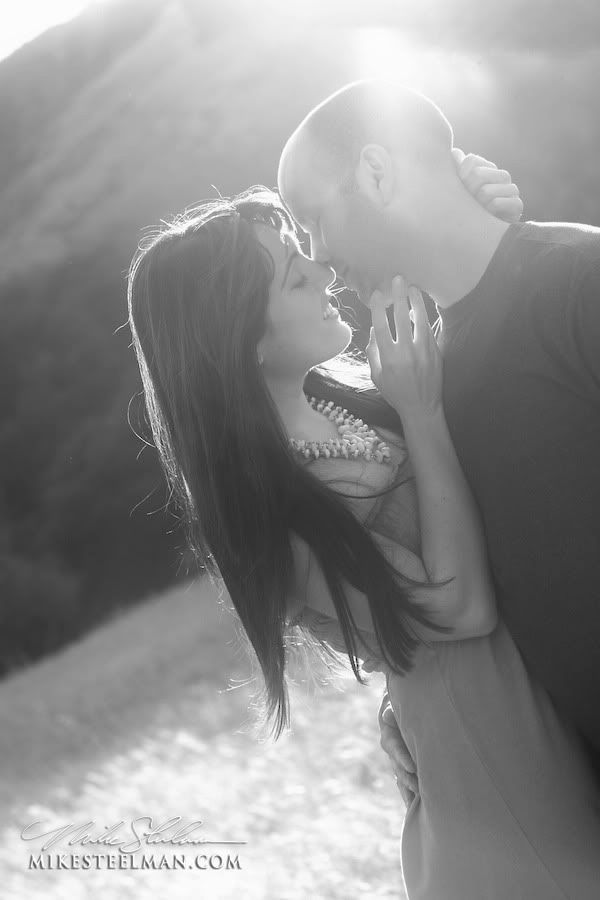 And we actually have Mike to thank for introducing us, kind of. It was last September that Mark and I first met at
PartnerCon
, that Mike invited Mark to attend with him. Then the first night everyone got there, everyone was hanging out in the lounge and that's when I met them both. (I have a picture with Mike, but I don't know what happened to Mark, ha!) Then Mike helped bring Mark to WPPI in February when Mark and I really got to know each other better, so it was great to see Mike again and have a double date with him and his wife.
I'm heading back to California the week of May 10 (I know, racking up the frequent flyer miles a lot lately), and I already have some people asking me to shoot some photo sessions while I'm out there. So if you are around the Monterey or surrounding areas and interested in having me shoot a session for you, whether engagement, bridal, family, senior, whatever, I'm now accepting limited openings to schedule your session! I can't wait to shoot in all the beauty of that area, so email me at
scarlett@scarlettlillian.com
and I'll be happy to send you my info! I'm also accepting weddings now in the Monterey area for complimentary travel fees, so if you know someone getting married, I appreciate your referral!
Labels: Personal