Featured Magazine Publishings /// Southern Weddings, The Knot Florida, Rangefinder, Jacksonville Magazine
Someone pinch me.
Just earlier this year
I was praying
about getting published in more magazines this year. And today I took photos of not just one, but FOUR magazines I have recently been published in. What the heck? But I can't help but chuckle. That's just like God. When we ask for something, He always out gives better than we could have imagined. I give all credit to Him for the amazing hook ups!
First, this time last year I shot a GORGEOUS wedding for
Shayla & Kyle
in Savannah, Ga at the
Mansion on Forsyth Park
. Shortly after, an amazing new magazine called
Southern Weddings
launched it's first issue, and I knew this Savannah wedding would be the perfect match. I was excited when I got an email from their editors asking to feature it! Here's the 4-page spread design they sent me! (How appropriate that my name is listed under Shayla's darling
Kate Spade
hot pink shoes!)


I still love all the fabulous event design Steve Kemble did for this wedding!

Second, I got in the mail today the new
The Knot
Florida for Spring/Summer 2010. I knew
Sarah & Zac's
beautiful jewel toned wedding was going to be featured, so I flipped over to it and loved it!
Then I noticed on the cover that it was the Best of 2010 issue, so I was like "Hmm, let me flip over there and see who got chosen." To my surprise, I saw the readers chose ME as one of the top 10 wedding photographers in North Florida. Do what? For real? SWEEEEEEET! Thank you soooo much to those who voted!
I just have to say that it is an honor to be featured under the late
Naomi Williams
. When I was a videographer, we had a booth next to each at a bridal show, and she was a photographer who really inspired me to want to try out photography after seeing how beautifully she captured weddings. She graciously gave me a tour of her studio years ago and after that, I was hooked and bought my first camera. She will definitely be missed in this community.
Third, the other day I was flipping through the September issue of Rangefinder magazine recently, trying to catch up on my pile that had been collecting on my coffee table. Next thing I know, I see MY FACE. What the heck? And not only was it my face, it was next to
Denis Reggie's face
(the father of wedding photojournalism and wedding photog to the stars!), and mentioned with a lot of other photographers I have looked up to since I started this crazy journey 3 years ago. It was for an ad for
Pictage's PartnerCon
that we were both speakers at. Granted, at this point, PartnerCon was over, but I had no idea my picture was featured in their ad. So it was thrilling to see I made it in the professional photographer mag,
Rangefinder
!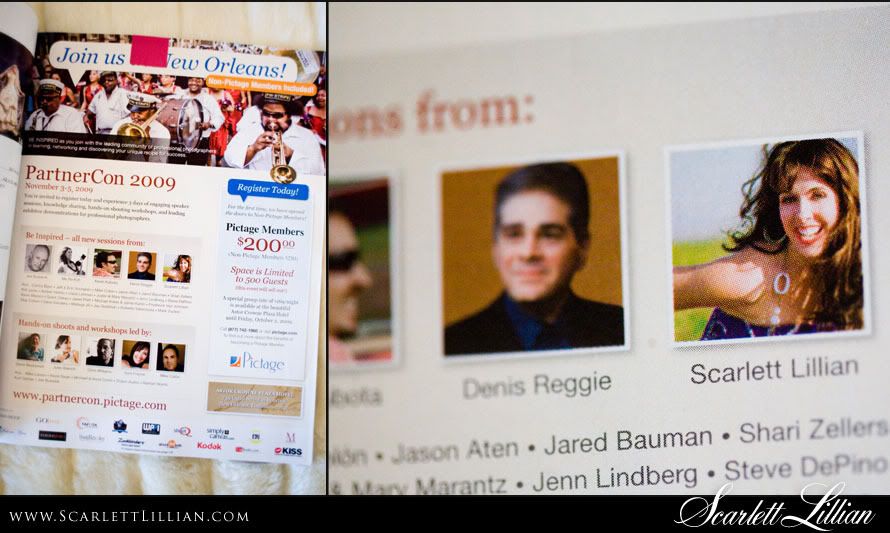 Fourth, the other day I was grocery shopping and my make up artist friend,
Paulina Perez
, had told me that Jacksonville Magazine just came out with their Best of 2009 issue. I knew I had been chosen by the readers
in the bridal issue
a few months ago, (again, SUPER THANKS TO THOSE WHO VOTED!) but they apparently re-listed the bridal selections in this new issue. So cool! I wanted to tell the check out guy "Guess what, I'm in this issue!" but I, uh, held back.
I do have to say though, it's funny to me to be featured under the cutesy store,
Pineapple Post
, because it is owned by my old boss's sister-in-law. Small world!
FOR PHOTOGRAPHERS:
Those out there hoping to get published, I just want to use this as an example of why blogs are so important! It's because of how I blog my weddings, AND THE DETAILS from each wedding, that editors follow my work and ask to feature it, or that I'm able to easily send them links to my new weddings for them to consider. To be honest, I never used to blog detail shots before, but then I realized, that's what magazine editors want to showcase more than the lovey dovey shots of the bride and groom. Their goal is to show future brides details of what they can implement in their wedding day. So the more you can show on your blog, the better and more easy it is for the editors to consider your wedding. And I use the fabulous
MCP Actions
to help me easily do the detail collages. Check 'em out!
Labels: Press