A blessed holiday season.
Happy New Year!! I hope everyone has an amazing new year's eve celebration tonight whether going out on the town or the simplicity of staying home with family. I'm looking forward to celebrating with some close friends and ringing in an exciting 2009!
I can't wait to show you the my
video blog documentary
on January 19 of a lot that has been going on behind the scenes the past month, but I kept my Christmas with family off the video blog to keep things more private and out of the public eye. For all those who have been praying for my dad, I continue to cherish each of your prayers. I'm sorry I haven't written more about it all on this blog lately to keep everyone updated, some days it's just tough as a daughter to deal with it all and watch your father become so weak, let alone be public about the struggles of losing a father. You guys were soooo there for me in the beginning when I first wrote about hearing the news of his cancer, and I can't thank you enough for how all of your sweet words stood in the gap of my faith during a time I needed it most. Though I haven't written much about it since, my mom is better at keeping everyone updated on her blog at
johnnysjourneytovictory.blogspot.com
and I invite you to continue sharing your prayers and comments on his blog. My mom reads them all to him and he loves to hear them! We appreciate the smiles you bring him!
His 62nd birthday was 4 days before mine this month, and though he wasn't feeling well enough to go out, I was thinking back to the past two years of his birthday and how I am soooo glad we were able to give him a super great celebration for his
60th
and
61st
birthday. (Wow, looking back at these birthday pictures to find the link, I'm teary eyed, it's amazing how different he looks just a year later after all the ravages of his chemo treatments!)
I did whip out my point and shoot camera for a few Christmas shots opening gifts with my parents and grandparents, and couldn't resist filming my dad for a super cute Christmas card we got from our friend Connie that made us all laugh out loud!



Mom's pretty Christmas tree! The presents under the tree are only from friends. This year my parents and I chose not to give gifts to each other to celebrate instead the gift of what might be the last Christmas with my dad, and the birth of Jesus as our loving Savior!



A Christmas kiss for my dad on my parents' front porch! YES, mom made us all wear matching PJs. ONLY for my mom do I do that!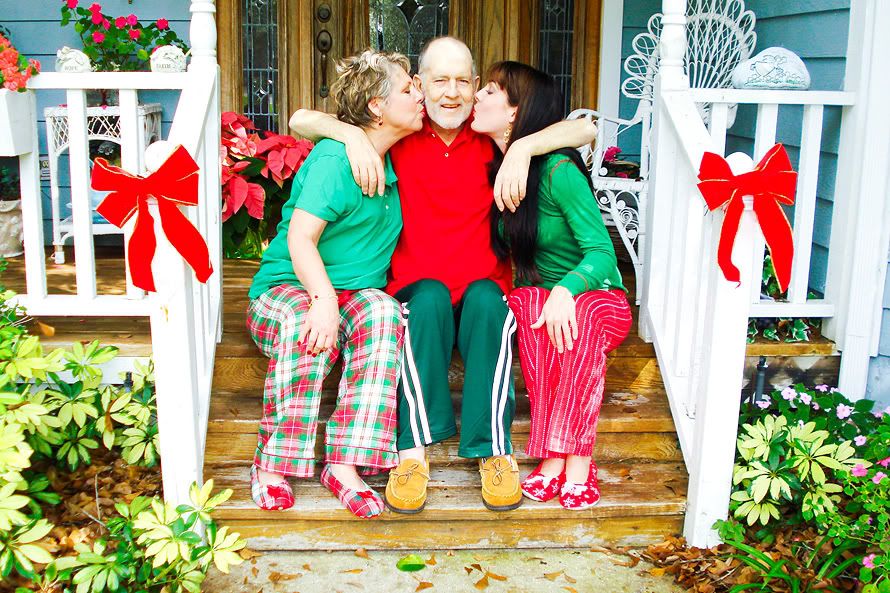 My mom's parents came up from Orlando!



Rhett helping my dad open gifts.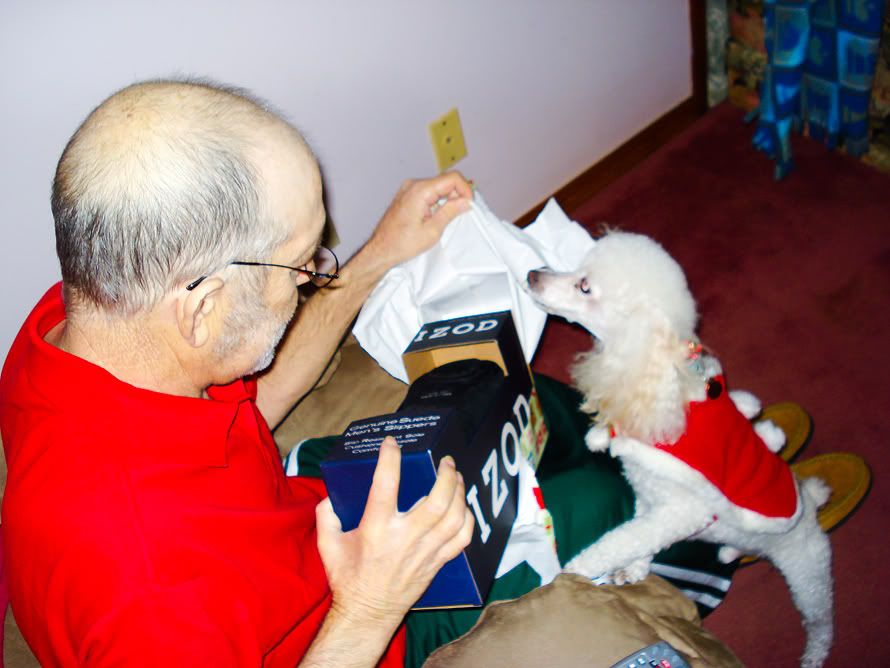 Ok, I know we weren't supposed to do gifts, but I couldn't resist bringing my dad something back from Hawaii. In his hand is a magnet holding some sand from Maui!



And mom got an oven mit from Hawaii because she's such a fabulous cook!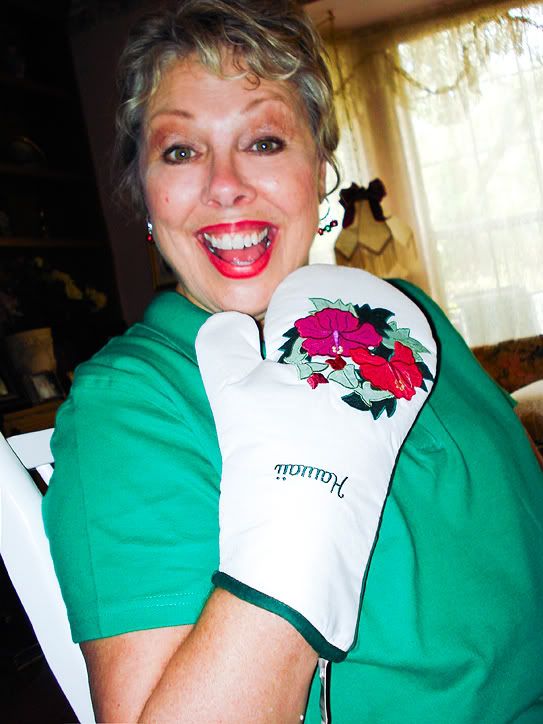 Our friend Connie got me the CUTEST hot pink polka dot diva poodle in high heels! I LOVED IT!



Rachel stopped by for our present exchange. She got me the cutest card that sang the theme from my favorite show, Golden Girls!



Love her like the sister I never had!

Here's to a GREAT new year for each and everyone of you in 2009! Thank you for following my blog and for blessing my life in 2008!
I leave you with a great devotional for the new year that I got in my email this morning from
crosswalk.com
:
Isaiah 43:16 and 18-19
This is what the Lord says, "Forget the former things; do not dwell on the past. See, I am doing a new thing! Now it springs up; do you not perceive it? I am making a way in the desert and streams in the wasteland."
Thoughts on today's verse
The year is gone, finished, past. We cannot reclaim it or undo it. We cannot rest on the things it has brought us. If tomorrow dawns, it will be another day, a new opportunity, and the time to show our faith in Jesus as Lord. Let's journey forward, knowing that God already inhabits the future and promises to provide us refreshment.
Prayer:
Lord of all eternity, please help me to learn from my mistakes but not dwell on them. Please help me not rest on my accomplishments in this past year, but use them to further your work in me and through me. Please help me not quarrel with those who injured me yesterday, or last month. Instead, O Father, lead me in your paths and help me see your mighty works this next year. In Jesus name and by his power I ask it. Amen.
Labels: Personal