After the wedding day.
There's an interesting discussion going on
my Facebook
right now about brides who didn't invest in the photographer they really wanted and ended up being unhappy with their wedding photos. The discussion got started because yesterday I got a follow up email from a bride who had inquired with me last year, but didn't hire me because of my price, and in yesterday's email told me how unhappy she was with her photos and ended the email saying "I wish I had hired you!"
So I
Twittered
about that, and now it lead to a discussion on Facebook. Yes, I'm a photographer, and I'm not here to be all used car salesman on you, but as a bride myself now getting married in April, I have learned from both sides that yes, wedding photography is one of those things, you get what you pay for. If you love someone's style of photography, but sacrifice that for price, then, well, it's kind of like getting that Louis Vitton knock off that falls apart when you should have just invested in the real thing in the first place (Not that I would buy a Louis, I like Juicy Couture's style better, but you get the drift!) It breaks my heart to get the kind of emails I got last night, or at almost every wedding, a guest comes up to me after seeing their friend's engagement pictures and says "Your photos are amazing, I wish I had paid more to get a good photographer!"
Because I am a photographer, and now also a bride, the first thing I hired was our photographers for our wedding, the amazing husband wife team,
Gray Photography
, because, not only did
Stephen
and I love their style, we knew great photography is the most important investment of the day. Jodi could even blackmail me with a few "begging" emails trying to revolve our date around when her and Zach were available. Having created so many beautiful wedding albums for my own brides, I thankfully have not had to learn the hard way that your wedding photos are the only thing (other than the rings and marriage license) that lasts after the wedding day is over.
Some of my my recent brides,
Emily
&
Ashton
, say it best in their follow up emails after seeing their wedding slideshows: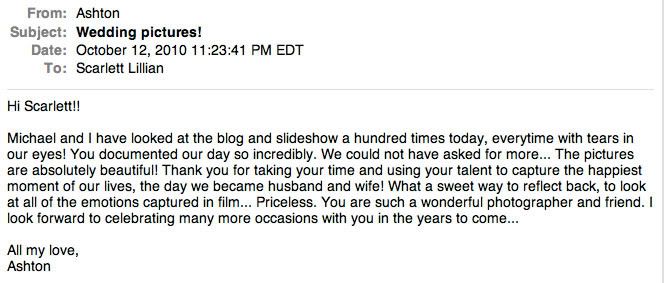 What will you say you invested your budget in? The upgrade on those chair covers, or the last picture you have with your dad dancing the father/daughter dance before finding out he had cancer after your wedding? This happened to one of
my 2008 brides
. Even this year, I had one of my recent brides email me thanking me for a side picture I took of one of her bridesmaids. It was her groom's sister, age 19, who found out she suddenly had an illness that took her life in a few short weeks, and they used my photo at his sister's funeral.
Whether you hire me or someone else who is your favorite that you know you want to splurge on, go for it! This is the one day in your life that changes your life, and you will look back on the rest of your life. The American Express commercials may be cliched at this point... but it's the moments that happen after a wedding day like the one above that prove wedding photography truly is..... priceless.
Labels: Weddings