Pretty purses in pink.
Yes, it's a little safe to say, I'm obsessed with pink. Cruise around this blog and my website, and you will see it everywhere. Ever since I was a little girl, it has just always been my happy color. Even my first AOL screenname was GirlyNPink when I was a teen. It's just what makes me, me.
So, yes, I also have pink luggage. Then going to Miami, Rachel brought her pink Vera Bradley luggage. I got such a big laugh out Rachel blurting out in the hotel elevator "Man, between you and I on this trip, we have enough pink to save the world!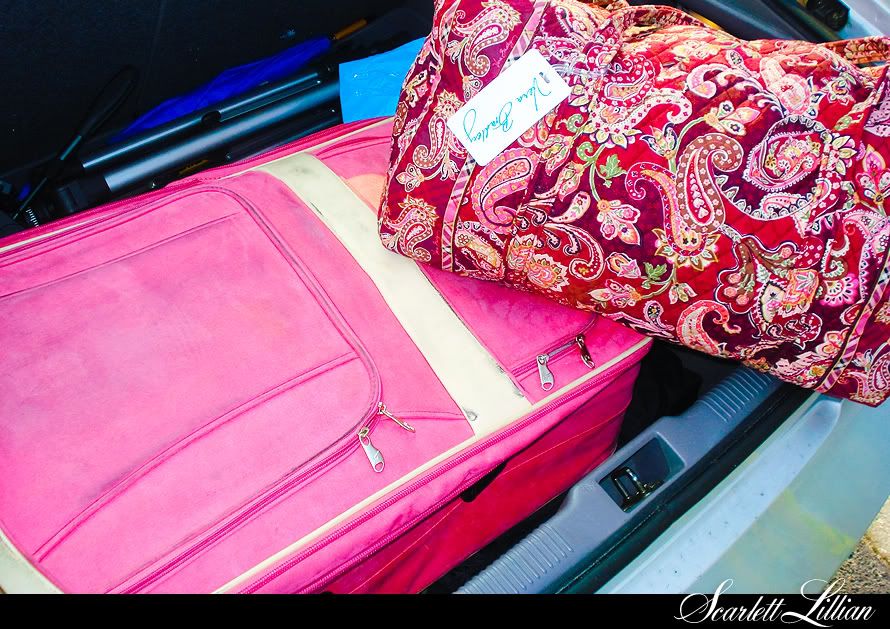 On top of that, Rachel also surprised with me a fun new pink stiletto blinged out Sex and the City bag full of goodies for our trip!
Then I got home from Miami and check my mail. I have a huge box waiting from one of my wonderful brides,
Amy
. She absolutely surprised me with these amazing PINK gifts that she saw and thought of me. One is a Victoria Secret PINK water bottle (which is amazing b/c I'm always trying to chug more water) and this oh so fabulous Dolce & Gabanna hot pink purse she got me while she was in NYC recently!!
Not only did Amy write me the most beautiful email a few days before with encouragement about waiting to hear
my dad's results,
but to follow up with this surprise package just truly made me jump up and down. I have the BEST brides! I'm excited too because Amy said she switched her upcoming wedding decor to black and white and pink! I so can't wait to see what she puts together! Just seeing how cute the wrapping was, I know her wedding will have a lot of great details to shoot!
THANKS AMY AND RACHEL!!!!!!!!!!!!!!!
Here's a collage of all my new pinky gifts!!!
Now my coat wrack in my foyer holds my new favorite bags!
This photo is going to serve as my new inspiration board for my new office. I'm about to redo my loft painting the walls the same color as the D&G purse, with black and white touches. I can't wait to reveal the new look to all of you soon!!
p.s. Check out a slightly new look for the blog also coming SOOOOOOOOON!!!
Labels: Personal