Love is in the air!
I know it's not Valentine's Day yet, but yesterday, I felt so much of God's love through a lot of little ways and different people. I've been getting so many wonderful Valentine's cards from others, but my favorite so far has been from my mom. She knows me too well when it comes to my fashionista ways. The card even has my pink stripes on it!!
Then, I got the sweetest out of the blue email from my gorgeous bride, Cara.

"Hey little miss jet setter...

I cannot believe what an incredible year you have had. I just wanted to write you and let you know WHAT AN HONOR it will be to have you as a photographer for our wedding. I was looking at your blog and your latest pictures from Jamaica and I just had this overwhelming sense of how incredibly lucky I am to be having you capture one of the most special days of my life. You are not only a wonderful photographer but such a great person. I am honestly so happy for you and everything you are accomplishing. I just wanted to tell you that and let you know how excited I am getting for all the wedding fun :) Keep it up girl, you are FABULOUS! have a great day.

Cara"
Sweet emails like that is the reason I love what I do. It is such an honor to be used in someone's life to capture and document their most important day! I'm so excited to shoot her wedding in June at the beautiful
Jekyll Club
. Here's one of my favorite photos from her
engagement session
with her Justin Timberlake look-a-like man, Drew!
Then, on a routine session to my mailbox, I got surprised by my darling sweet friend,
Darice Michelle
, with a box of raw chocolates! It was even wrapped in a fabulous hot pink bag!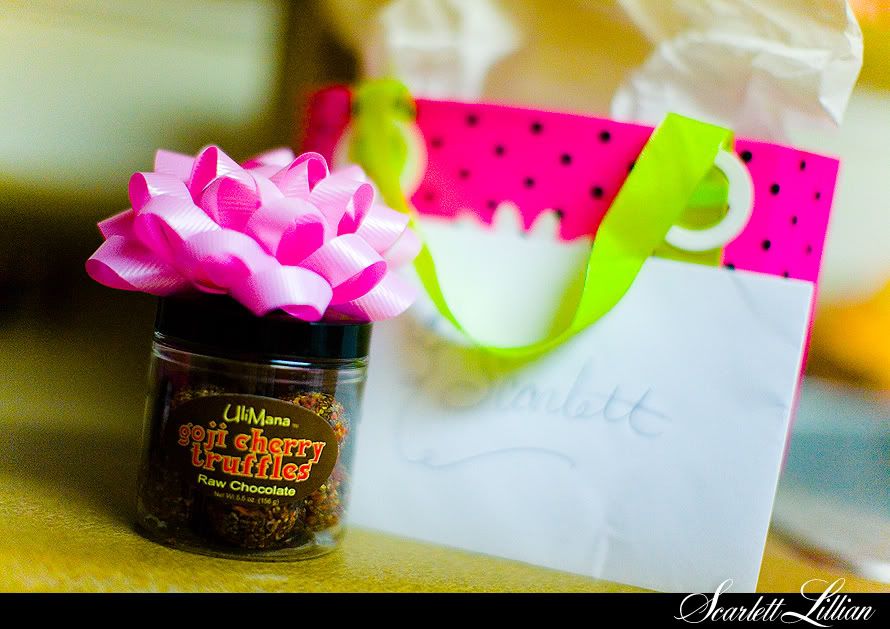 Darice served as such a big inspiration in why I went vegetarian last year, and then later in the year she turned me onto the even greater benefits of being a
raw foodist
. No, it doesn't mean eating raw meat, but instead, eating only the natural and living things God created in the beginning of time that are grown from the earth like fruits and vegetables and nuts. And yes, raw means not eating anything that is cooked or processed or jarred or canned. It sounds very impossible and limiting, and I never thought I could do it, but yet, I discovered there is so much variety out there and great resources of recipes in ways you can create amazing things like raw tacos, raw pizza, raw soup, etc. You would be surprised at all the endless possibilities. Anyways, so I was telling her the other day that one of the hardest things for me in going raw is giving up chocolate!!! So today, I was completely surprised to open my mailbox and discover that she sent me a box of the yummiest raw chocolates for Valentine's Day!
If you are interested in learning more about this, Darice keeps an amazing blog about her journey as a raw foodist at
gowonderwoman.blogspot.com
. She explains it all better than I ever could. However, I do have to say, after
my cancer scare
, in the months of November and December, I was pretty hardcore doing the raw thing in wanting to truly take care of my body and detox, and I felt completely amazing from the inside out! I totally felt renewed not only physically, but emotionally and spiritually as well. And as an extra benefit, I lost those 10 stubborn pounds that I've never been able to lose before through regular healthy eating and excercise. But with the holidays, and all my travel in the month of January, I totally slacked, and even gave in and ate meat again for a month (eek! bad girl!). Needless to say, I started to feel like crap again, the weight came back on, and I realized I felt like crap because of the crap I was putting back in my body. So this past week, I've been trying to get back into the raw thing, but really struggling with missing chocolate, especially with Valentine's goodies around the corner. But getting the raw chocolate from Darice totally made my day to discover I can still have it, the raw way! (Now if they would come out with raw M&Ms, I would be set!)
Anyways.... so yesterday was a great day of feeling love from all different sources and one of those days that God was reminding me why life is so beautiful. As my mom has always said, "Whatever the question, love is the answer."
Labels: Personal