Let's get our shoot on at WPPI 2010 in Las Vegas!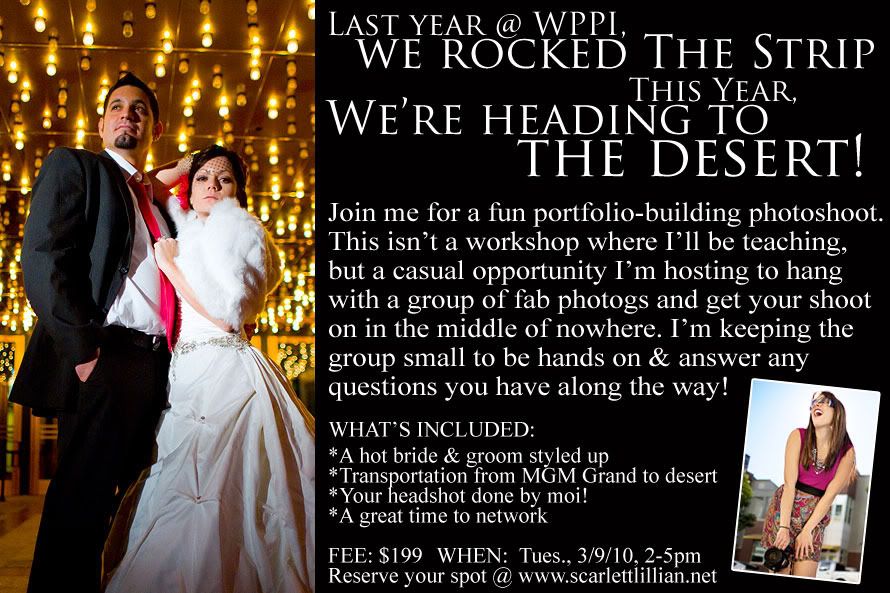 So who all is attending
WPPI
this year? Leave me a comment and let me know! And if you see me around, please come up and say hello, I would love love love to meet you!
One of my favorite things about WPPI is the chance to leave Jacksonville behind and shoot in an new awesome place! Las Vegas has SO much eye candy to shoot around! The past 2 years I have hosted photoshoots
around the strips and hotel
, and I thought I would take a break this year, but so many of you have been asking me to do another one... Soooooo, here goes! I'm actually really excited to host another one this year because last year the photoshoot SOLD OUT to 20 photographers from as far away as Japan and Australia! We had fun playing around with off camera lighting, but things got a little crazy being in the heart of the WPPI. So this year, I'm scaling it down to 10 people, and I'm taking things out to the desert because... well... I've never got desert shots before and I really want that shot of a bride and groom laying in the abandoned road with the steamy desert all around them... ha!
The event site is already live, but registration doesn't open until 1 PM PACIFIC standard time. (That's 4pm today for us east coast folks! I had to set it according to Las Vegas time!) So set your alarms on your iPhones to remind yourself because it's first come first serve with the 10 spots open! Here's the link where you can grab your spot:
http://scarlettlillianvegas2010.eventbrite.com
Also, as a bonus, each attendee will receive a 30% discount toward a stylin'
Trendy Camera Strap
!
Here's a fun behind the scenes video from last year's shoot made by the fabulous Andrew of
Studio MSV
!
Also, earlier that day before the shoot on Tuesday morning March 9, I'm excited to also be asked to hang out at the
Pictage booth
at 11am. Apparently
Jim Collins
, the rockstar CEO of Pictage, is doing a "Inside the Actor's Studio" dealio with myself and other friends of mine (you'll want to stick around for
Bob & Dawn Davis
and
Mike Larson
following me)! So I hope you'll make it over to the Pictage booth and participate and say hello!!
Lastly.... can I get a big WOO HOO! Last night, I was honored to be 1 of 90 photographers who helped raise almost $42,000 for
Thirst Relief
! This will help ThirstRelief save 8,327 lives by providing access to safe, clean drinking water in third world countries. It was like watching a horse race the last 2 minutes as I watched my bids go up, actually hanging on the edge of my seat! I'm still waiting to hear who won my bid, but I'm excited to not only help Thirst Relief, but help another photographer at WPPI. We'll be spending 2 hours together over lunch chatting about photography as I help answer their questions. In addition to the mentor session they won, I'm giving them a FREE spot in this Vegas shootout!
So don't forget.... 1 PM PST is when registration opens... Hope you can grab a spot too! I look forward to hanging out and shooting with you in Vegas!
http://scarlettlillianvegas2010.eventbrite.com
EDIT:
This event SOLD OUT in 20 minutes! But if you missed out grabbing a spot, go to the link above and sign up on the WAITING LIST in case a seat opens up... I just might open a few more. :-)