My biggest fear.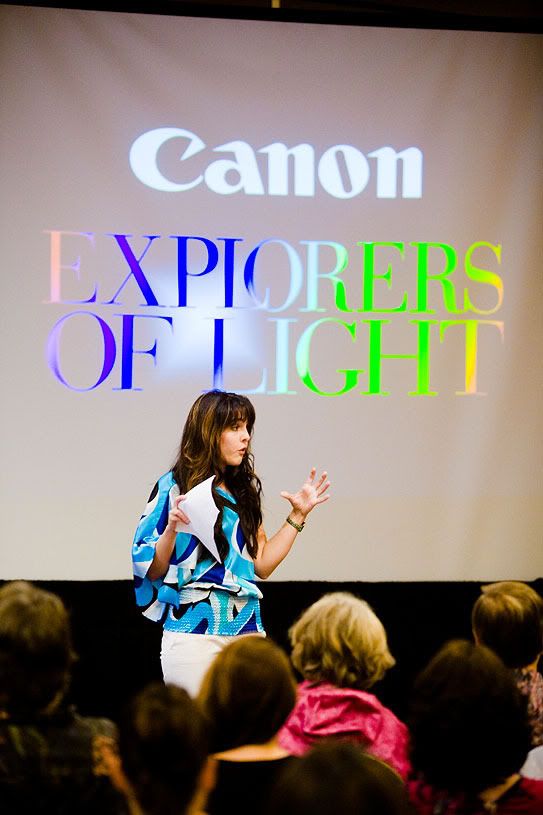 Photo by Denis Reggie.
Soooooooo, today I got asked to face my greatest fear.
Stage fright.
"Ohhh sure, whatever, you totally flaunt it in front of the camera," you are probably thinking.
A camera is one thing.
But eyes staring at me is another.
I don't know where it came from. Growing up, I was always involved in the drama club and beauty pageants. I used to LOVE theater and performing. So in college, I chose to even minor in Theater. But suddenly, that's when it hit me. I began to choke up in my acting classes. I was scared to death. WHY was I so scared to death? The thought of people staring at me made me anxious. Terrified. Nauseous. And it still feels that way today.
And the times I've modeled for photographer friends, it really was more about forcing me to walk through my fears. Trying to find the performer I used to be in my childhood.
But then today, I got an email from
Pictage
. They asked me to submit an abstract to be considered as a speaker for the upcoming
PartnerCon
in New Orleans in November. (Woo hoo, who all is going? I would love to meet you there!)
My first reaction was "What, me? No way, I can't do this." Then my second reaction was "HELLO, dork, you have to do this." Then my third reaction was "But what would I talk about? What do I really have to say and teach?" So my fourth reaction was to text
Mark
and he immediately called with his amazing reassuring love and support. :-) And my fifth reaction was to
Twitter
about it and ask you what you would want me to talk about. I got some amazing feedback, but those who don't Twitter or
Facebook
, I wanted to post it here on the blog too for feedback.
What are you dying to know that I can help you with? I'm simply clueless on what to talk about.
That's another reason I've been putting off hosting workshops. I've been getting so many emails lately from people asking when I'm going to start offering them, but again, the thought of eyes staring at me, and being clueless what to teach. It just gives me the heebie jeebies. I about had a nervous breakdown when simply introducing Denis Reggie at
last month's
Pictage User Group.
Am I even really meant to be a teacher? I can't even try to teach my mom something on the computer without getting frustrated with her.
With all that said, I truly truly enjoy my one-on-one
"Spend A Day With Scarlett"
workshops. It just feels like hanging out with an old friend, and I'm just answering questions all day. I can answer questions, no problem. But why can't I get up and talk just as naturally?
I feel like this is my Esther moment. That's my favorite book in the bible, when God calls an ordinary girl to accomplish an extraordinary thing "for such a time as this." She has to choose to be bold, and walk through her fears, and trust that God will take care of the rest of the details. So even though public speaking scares me to death, I'm still going to submit an abstract and let Him take care of the details if it's His will for me to walk through that great fear and be a speaker or not.
So I need your help photographers..... I would love to hear your thoughts, ideas, suggestions, questions, etc on what you would like to learn from me that would benefit your own journey with your photography or business? Leave me a comment and let me know!
Labels: For Photographers, Press