Wanna be a popstar?
Once upon a time I did.
In my college days, back before American Idol, there was another singing show that debuted on The WB called
"Popstars."
Though most of my singing experience was only in the car, and a few beauty pageants growing up, I thought it would be fun to head down to Miami one summer between classes and try out for the show.
My mom and I packed our bags and headed down for a fun road trip. Upon arriving at the hotel at noon that day, I was shocked to see others already lining up around the block to get their place in line to audition. So though the audition wasn't until the next morning, mom and I parked our chairs in line and secured my place. One glitch though, when unpacking at the hotel, I realized, I had FORGOT all my clothes in a hanging bag in my closet! EEK! I had picked out the perfect hot pink outfit! So instead, mom and I had to cruise South Beach real quick for a new outfit and hop back in line.
It was one of the most surreal experiences of my life. As I was shooting Alexis and Gerard's
engagement session
around the same property this past summer and telling them of the experience, I still can't believe my mom and I once spent the night on the streets of South Beach! It truly is a town that never sleeps, but being surrounded by so many other dreamers and creative people, the energy kept us awake as we celebrated the reality of chasing a dream.
Here's a pic of the group of girls that I made instant friends with as we all got ready with our numbers to head inside for the audition. Yes, I still have curlers in my hair. With the Miami humidity, I had to keep them in until the last minute.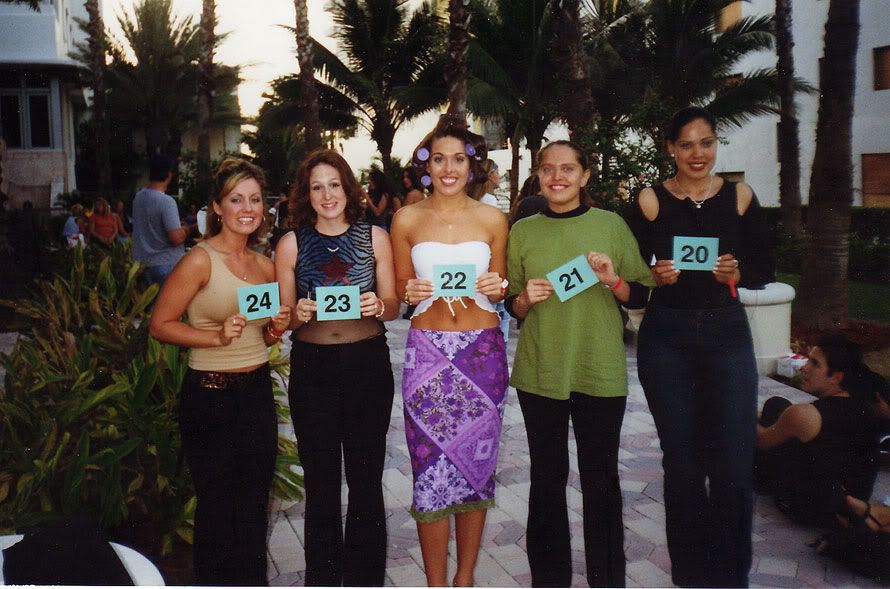 I was so excited to make it to round two of the audition process and land on the front of Miami Herald in an article with a picture they took of me auditioning and asking me about the experience! But after that, my journey to become a pop star ended as I headed back to school following the other path God was laying out for me that has now lead to me here and my other passion as a photographer. I still love to sing though and will never stop holding my hairbrush belting it with the best of them.
All this came back to me as I checked my email this morning and had an email waiting from Canon who is holding their own popstar contest! For the other hairbrush holders out there, just thought you might want to know about
this opportunity
to enter!
Labels: Personal