One more hour left for contest submissions!
LOLOLOLOL. Myself. As a cartoon. Ha! This was the sign from one of the funny contest submissions drawn by one of my grooms,
Chris
, for his lovely new bride,
Tracy,
who entered the contest. The full entry will be shown later this week on my blog!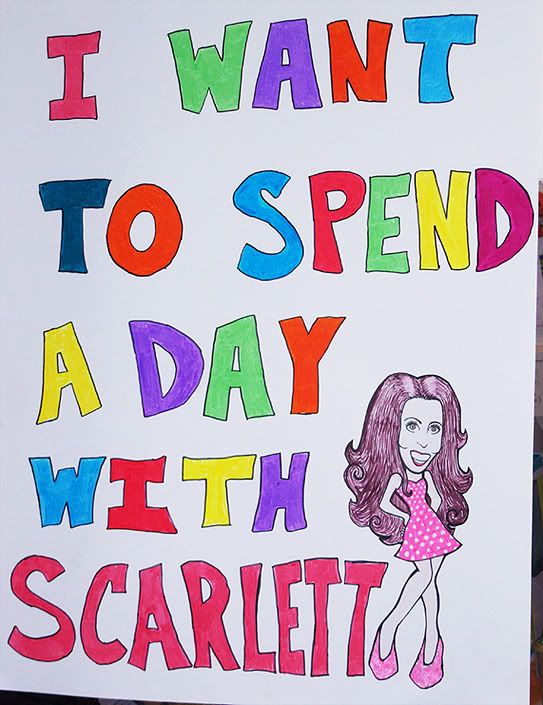 Just a reminder that there is only ONE MORE HOUR left to submit your
"I Want To Spend a Day With Scarlett" contest submission
for the FREE
Flosites
blog design and
Trendy Camera Straps
!!
I have laughed and cried and oohed and awwwed over all the entries so far! I am AMAZED how creative each and every submission has been, and all the hard work you have put into creating your entry, and I can't wait to show them all off! It's so cute how my precious Rhett has become the true rockstar of the contest in all the oh so cute ways you have incorporated him into your entries with your own pooches!
I honestly love each and every one of them, it's too hard for me to pick only 3 finalists. So I've made a slight change to the finalist selection process and will instead showcase all the entries this coming week on my blog and let, you, my blog readers narrow down and vote for the finalists, then from there, the grand prize winner will be announced on August 25 at 11am EST after the
PREMIERE
of my upcoming tres chic promo video!!
So hurry hurry, if any of you have last minute submissions, you've got one hour to email me your jpeg at
scarlett@scarlettlillian.com
!!
God bless and much love,
Scarlett Lillian :-)
Labels: For Photographers