A wedding I'm not shooting.
I'm in Peru right now.
Ok, Peru, Illinois.
This week, my travels have taken me in a small city outside of Chicago to do something different.
Be in a wedding.
I haven't been in a wedding since I started shooting them a few years ago, so it should be an interesting experience to participate in a wedding now from the perspective of a bridesmaid. My friend said she wanted me to simply enjoy myself by being in the wedding, not shooting it, so I'm not quite sure what I am going to do with myself without my camera. Major withdrawals! I also won't have a date! Originally my mom was supposed to come with me as my "plus one" to also celebrate Mother's Day this weekend for a fun girl's weekend in Chicago before the wedding, but my dad has come down with some emergency-room related health issues (please keep him in your prayers!) she had to tend to, so for this wedding I will be "minus one." No mom, no boyfriend, no camera. What is a wedding photographer to do with nothing to do at a wedding?
My girlfriend getting married is my friend Chrissy who was my BFF in high school. Though she moved to Illinois for college and we don't get to hang as much these days, it is awesome when you can keep in touch with friends and celebrate their special day with them all these years later! Here's a photo from Spring Break 2000 that I grabbed from the blog entry when I blogged about our other good high school friend Michele (far left), whose
wedding I just shot in March
. Now it's Chrissy's turn (second from right)! Megan, (second from left) the red head has already been married for years, so hmmmm, last but not least, looks like I'll be next in line! wink wink (Oh gosh, everytime I look at the blonde hair phase, I shake my head!)
Congrats Chrissy! I know you will be a beautiful bride!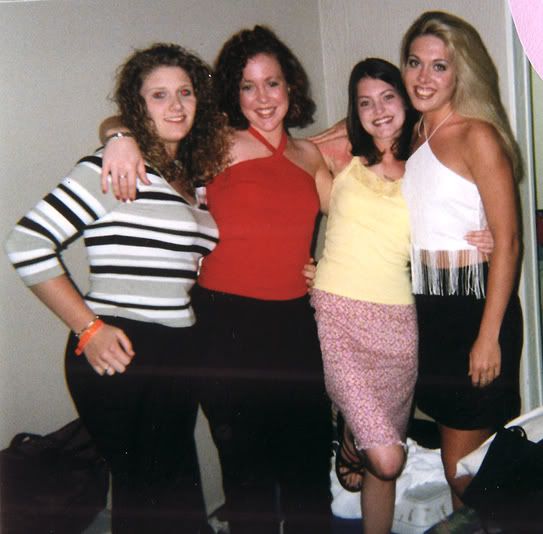 Labels: Personal