An early Easter encounter.
Last night after shooting
Kellie and Colin's
wedding in
Jekyll Island
, my second shooter,
Kenzie
, and I were starving. It was almost 2am by the time we got back to Jacksonville, early Easter morning, and needed an 24-hour place to veg. We headed to Village Inn where, first, we ran into these fun guys on the other side of our booth topping off their Bachelor party with a late night snack.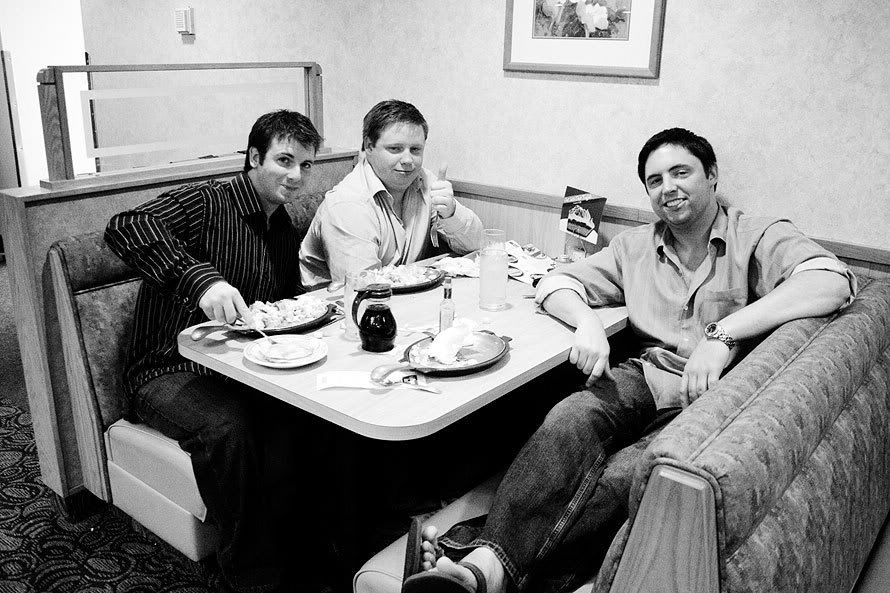 Boy, what characters they were. A lot of laughs though.
But then, after they left, Kenzie and I started talking to our waitress, Lisa.
When she found out we were wedding photographers, Lisa opened up about how much she loved taking photos and began to share her heart with us about some hard things she been through in life. She got teary eyed simply sharing how much she just wants to do something to give her 4-year-old son a better life. Working night shift, she rarely gets to see her son except 2 or 3 days a week because he stays with his grandmother due to her crazy work hours. She has always dreamed of being a photographer and had been trying to decide to go to school for it, or if she should invest in better equipment to start learning, or what. Kenzie and I encouraged her and told her about all the wonderful resources out there online for free, like
Open Source Photo
and other photographer's blogs where we learned a lot of our photography knowledge from. Yet, we further encouraged her that the most important thing required to becoming a photographer is a lot of prayer and faith and trusting God even in the slow times how if you keep planting the seeds, He does eventually turn it into a harvest.
When we left, I felt led to give her a $100 tip and wrote a note on the receipt to put it toward her photography dreams and to keep the faith. Then Kenzie and I slipped out into the night before she could refuse it.
On the drive home, Kenzie and I were talking about the appointments God sends us. There's always that infamous question of, "How do you share your faith with others without preaching at them?" We truly felt like, on that early Easter morning, that Lisa was an appointment He was sending us. Since I'm still looking for a home church, I don't have a church directly to tithe to, but I have been praying about opportunities to tithe in more direct ways that I know could bless someone else's life. I've also been praying to change my attitude from a whiny complaining one I get stuck in some days to an expectant one of all the good things God is waiting to do in my life. The last thing I expected, being exhausted after shooting a wedding, was for God to bring along an opportunity to show His love to a stranger at 2 in the morning, but that's what I love about Him. In order to distinguish between our will and His, He calls us at the most unexpected times. It was a great reminder that receiving truly is in the giving and how He uses ordinary people to do extraordinary things.
I pray your Easter is full of love and moments you can serve those that are closest to you, as well as strangers who might cross your path.
Thanks to Kenzie for whipping out her camera for these photos. Lots of new photos to come this week... I can't wait to share with you the images from a ton of shooting I have been doing! Wedding season is in full swing!
Labels: Personal