Join me LIVE on the [b] School Study Hall today!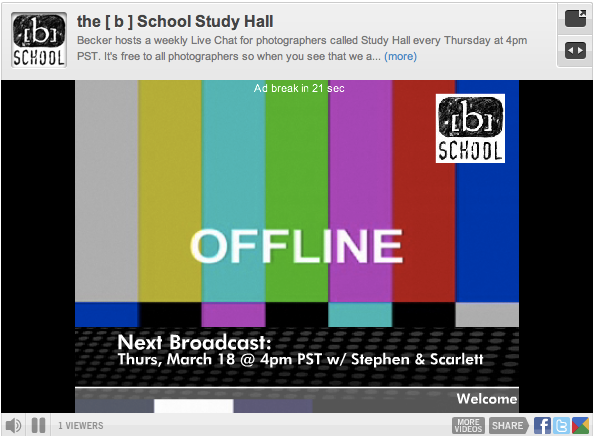 When I was first starting out in photography back in 2006, I kept hearing buzz about "The Becker."
"Becker who?" I asked.
"Oh, just THE Becker. Or [b] for short," I would hear.
I soon learned that
The Becker
is a So Cal photographer who started
the [b] School
, a Facebook-like place for photographers to hang out and learn and share. Each week he hosts a LIVE interview show called
Study Hall
where you can join the chatroom and ask the photog of the week and learn more about how they do what they do. This week while I'm in California, I was invited by Becker to be a guest along with my boyfriend
Stephen Knuth
. We'll be chatting about a lot of random things like the power of blogging, why I love Pictage, why Stephen loves
ShowIt Sites
and how Stephen kind of appeared out of nowhere to become the hottest Photographer of the Year I know. he he
If you've got photography questions for Stephen or I, this will be a great time to interact and chat it up with us. I look forward to connecting with all of you!
You can view our LIVE chat TODAY at 7pm EST/4pm PST at
www.livestream.com/thebschool
! Be sure to get there early to sign up and sign in to get your questions in. Just warning you, the chat room becomes a tad addicting! :-)
See you there!
Labels: For Photographers