Scarlett Lillian Workshop: Meet Jess McCrea!
I'm getting soooo stinkin' excited about my 1st workshop this coming February 5-7. There have been some amazing women signing up from all over, including one international sign up too! What a fun time it's going to be! Don't miss out, seats are going fast! Find out more here:
workshops.scarlettlillian.com
Today I introduce you to another attendee. She's a sweet girl I've emailed with over the years, Jess McCrea. Jess has a great heart for the Lord, and I'm so excited to finally meet her in person at the workshop. Check out her cute answers below and the words of advice she gives to other photogs! (Does she have the coolest hair or WHAT? Love it!)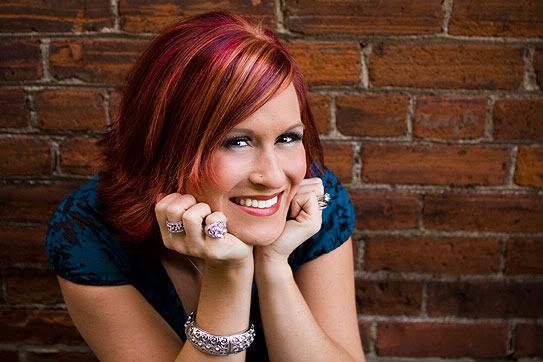 1. Name:
Jess McCrea
2. Website:
www.j3designz.com
3. Blog:
www.j3designz.blogspot.com
4. Twitter:
not that cool yet :)
5. Where are you coming from?
Fort Wayne, Indiana
6. What 3 words describe your photography?
Sexy, fun, flair
7. What do you love most to photograph?
Weddings, specifically the couple shots. I love getting the sexy and vintage look in photos.
8. If you could photography anyone, dead or alive, who would it be?
My grandmother-she passed away 5 years ago of cancer. At that time I wasn't a photographer yet, but I wish I had more pictures of her. She was such an important part of my life. But the person I love photoing most is my son, Jaxson. He's the cutest kid in the world and thankfully loves getting his picture taken.
9. What does fabulous mean to you?
Embracing yourself, those days where you look in the mirror and you know ya just "have it" that day. Fabulous is being authentic, and not trying to duplicate someone or something.
10. If you were on a deserted island, what three things would you want with you?
My laptop (WIFI equipped), my husband and my son.
11. Who is your hero and why?
My best friend Ashley, who is also my cousin. She is the most driven and intelligent person I know. Even at 22, her convictions about life are amazing. I admire that she never lowers her standards just to have a man in her life and presents herself as a Godly woman first and foremost.
12. If they made a movie of your life, what actress would you want to play you, and what would the title of your movie be?
I'd call my movie "Risa" which is Italian for "laughter". I've learned that whatever happens in my life good or bad, the best way to deal with it is to laugh and find the best part of the situation. I have always wanted to be in a movie, so of course I would be the best canditate to play me, but if had to be someone else, Rebecca Herbst from General Hospital. She is a fantastic young actress, and her character on GH is quite similar to me: dynamic, hopeless romantic, a mother etc;
13. What's your favorite flavor of cupcakes?
Yellow cake with cream cheese frosting
14. When you give thanks, what is on top of your list?
My son and my husband
15. What is one valuable thing you have learned as a photographer that you can pay forward to those reading this?
Spend more time finding what makes you unique and less time trying to copy someone else's style. There's only one YOU. Have lots of backup!
Labels: For Photographers, Scarlett Lillian Workshops, Spend A Day With Scarlett