My mom and the marathon.
Whew.... somehow... only through God's strength... I ran 12 miles on Saturday. And I'm STILL sore today.
So, not only am I training to run the
26.2 With Donna
breast cancer marathon on February 21, 2010, my mom has decided to join the race too! But we have different missions. My goal is to finish the marathon, her goal is to START the marathon. My mom is NOT a runner, but she IS a breast cancer survivor and she's using the marathon as motivation to train and get back in shape after the ravages her body went through with chemo and radiation and a mastectomy. My mom has started a new blog documenting her journey training. I invite you to follow her on the journey and cheer her on!
http://dashingafterdonna.blogspot.com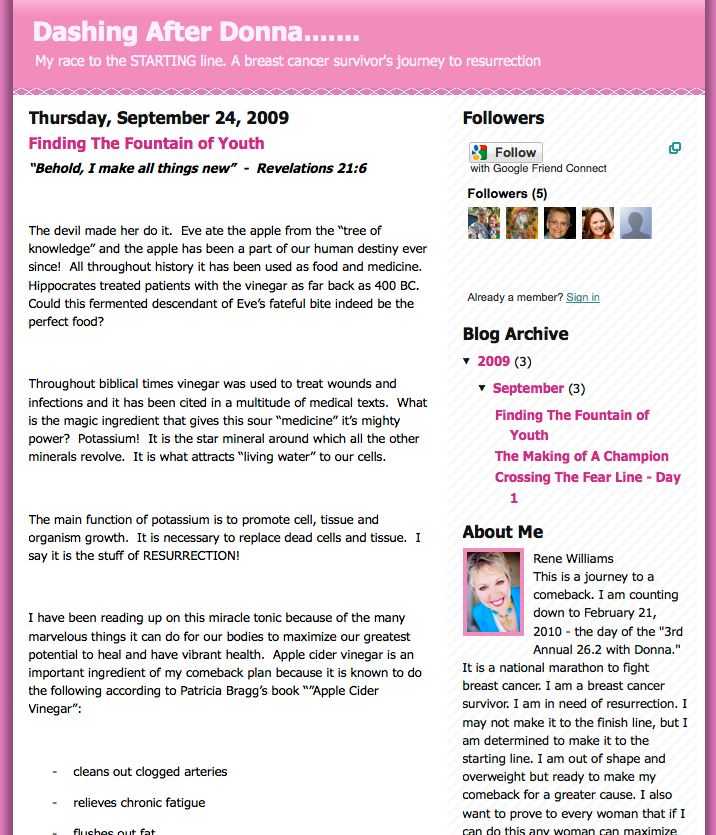 I'm still raising money for my fundraiser for the marathon. I'm excited to share that I've raised 42% of my goal. I could still use your help! The money goes toward Mayo Clinic research and to help those battling breast cancer. Will you help the cause and donate?
http://donate.breastcancermarathon.com/2010marathon/Scarlett
Also, if you know of anyone who has battled cancer, I'm going to make a tshirt of everyone I'm running for. Please add their name to the comment box in my previous blog entry you can find at:
http://scarlettlillian.blogspot.com/2009/09/262-with-donna-national-marathon-to.html
Labels: 26.2 with donna, Personal