The cutest dog in the world.
Rhett always teaches me to be joyful over the little things in life.
Earlier today I was in Target to buy a wedding gift for a friend, but I got sidetracked in the little girl's toy aisle. I think the pink sucked me in. I watched these two girls, probably about 10, peruse up and down the aisle pointing out what toys they already had and what new toys they wanted. For a moment, it transformed me back to that age when my greatest worry in life was hoping and praying I could get the next "it" Barbie doll. How much I would pine away for it, then once I got it, would treasure it like it was the most amazing thing in the world. I couldn't wait to play with her and dress her up and script all my upcoming dating dramas between her and Ken!
Well, I can't help but laugh at my poodle who does the same exact thing with new toys. In the pink aisle, I saw the cutest little toy dog,
Frenchy
, in the Fancy Nancy section. She was wearing a pink butterfly belt and was just the cutest little thing, so like a mom who spoils her kids, I bought Frenchy for Rhett to have a new girlfriend to play with. Or, um, beat up.
It's so funny when I bring home a new toy, Rhett always KNOWS when that thing sitting on the counter is HIS. I had to grab a shot with my iPhone.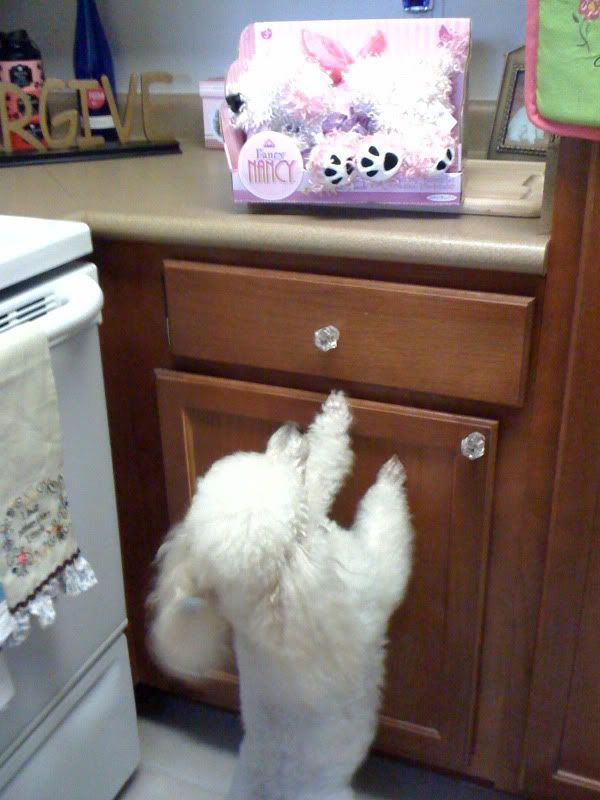 Then I had to capture this video footage of him going to town playing with Frenchy. He always cracks me up!
He's so an only child like me, the way he can always entertain himself, while entertaining me at the same time!
So needless to say, I think he likes his new toy.
Labels: Personal