Beyonce and Taylor Swift at the Video Music Awards.
OMG, did you watch the Video Music Awards last night?
(I'm so sure this was a PR stunt, but none the less....)
My heart jumped in excitement when my favorite girl,
Taylor Swift
, won Best Female Video, but my jaw dropped to the floor during her "Thank Yous" when Kanye West jumped on stage and told the world that
Beyonce
should have gotten the award.
ARE YOU KIDDING ME? I couldn't believe how rude he was! I'm officially boycotting any of Kanye's music from now on. For real.
I wanted to reach into my TV screen and just slap Kanye for Taylor. I wanted to slap him for all "Kanyes" I've had in my life too. And all the Kanyes my friends have had in their lives. I just do NOT get mean people. Especially other photographers sometime in this wedding industry.
I hurt for Taylor in that moment because I've been in her shoes. She's a sweet girl who is just trying to do her thing, just like I'm trying to do my own thing. Yet from day one of my photography career, I've had those Kanyes in my life trying to tear me down. For what? I have no idea. It has hurt, it has stung, it has made me drop my jaw saying "Are you kidding me?" and want to react in anger. But instead I've just learned to ignore the critics and if anything, the resistance motivates me to work that much harder. I just don't understand the mind of who could hate a perfect stranger for simply following her dreams. But honestly, it has helped me gain a thicker skin, and like Jesus tells us, I continue to pray for my enemies because I know God is always bigger than the insult and that He is fighting my battle for me.
I felt for Taylor when after the commercial break, she was the next performing act. Oh the courage it took for her to pull herself together and sing her song with a smile after being attacked. But what a great witness that was in my life to keep moving forward and shining instead of shrinking from the lies when an enemy attacks us.
Then I cried for Taylor when at the end of the show, Beyonce did win Video of the Year, and instead of her giving a thank you speech, she brought Taylor on stage to let her "have her moment". What a classy response that was from Beyonce. It just reminded me a lot about how God always protects us and still works for our good of those who love Him (Romans 8:28).
The ironic part is that Kanye writes in his song "Stronger": "That don't kill me will only make me stronger." And I know what Kanye did to Taylor will only make her stronger and that much bigger of a star!
And speaking of Beyonce and Taylor, funny enough, my mom just got back from Nashville and bought me the most beautiful gift from a custom jewelry store,
What's In Store
, where the owner, Dena Ferrell Nance, was telling my mom that she just made a similar necklace for Beyonce. She has also made jewelry for
Taylor Swift
. So my mom said she had to get the necklace for me! It was so stunning! I think I just might wear it during
my upcoming PartnerCon talk
in New Orleans to give me that Taylor Swift kind of courage! :-)
Not only was the necklace adorable, I loved her packaging!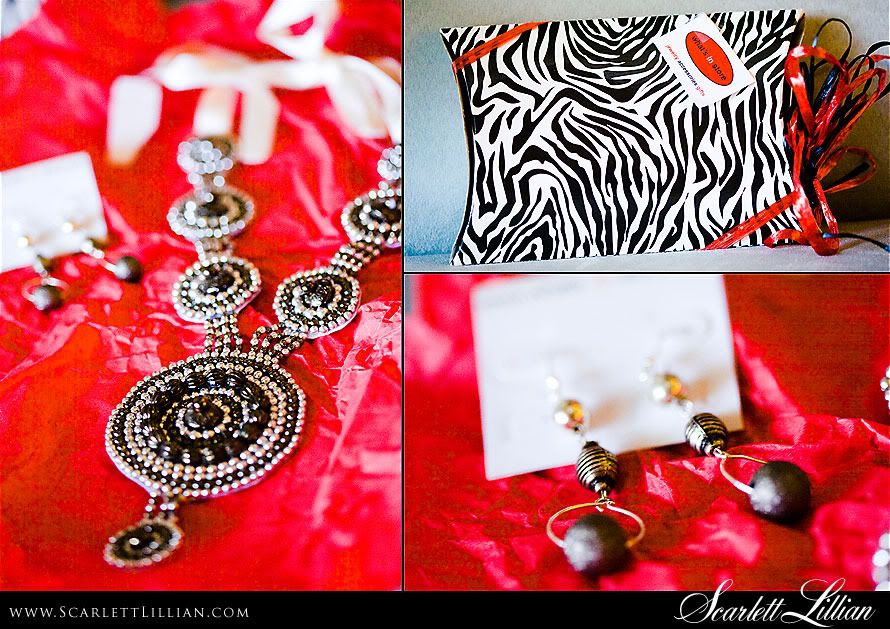 Labels: Beyonce, Dena Ferrell Nance, Personal, Taylor Swift, What's In Store