Being carried through the waves.
Last week was one of those Floridian weeks where you feel like it will never stop raining. So yesterday, when I took Rhett for a walk, and saw the crisp blue sky AND felt a slight coolness blow through my hair, I knew it was too beautiful of a day not to go for a run at the beach.
What I thought was going to be a usual gasping-hacking-I-can't-breathe-because-I-haven't-run-in-months experience, turned out to be so much more deeper than that. I too have felt like there has been a lot of rain flooding my heart lately with a lot of transitional changes in my life, but for the first time, on the run, Jesus was showing me that the storms had finally passed and I was filled with this incredible unexplainable new joy that I know comes only from Him.
You know how it is when you get a new car, and suddenly you see the car everywhere? It's like that too with God, once you plug back into Him and start looking, you realize He's everywhere and I felt like that's how my run was seeing Him along the beach.
For instance, on my iPod, the song "God, You Reign" was playing
"The skies proclaim, God You reign. You teach the sun when to bring a new day, creation sings, God, You reign."
And as the song was playing, above me, appears out of nowhere, a guy parasailing along the coast heading in the same direction I was. We were both heading south, and I realized, the parasailer was so much like God. I run along life, with my limited perspective, only able to see what's in front of me, while God is above me soaring and sees it all. The big picture. He's up there, looking down, going before me asking me to simply to keep my eyes on Him and follow Him running in the same direction.
But what moved me the most was further down the coast, when I saw two people making their way into the water, and I saw one of them fall in the waves, while the other pulled her up with all his strength. I looked closer and realized, the one that fell was an older elderly woman, and walking before her, holding her close was a younger man who must have been her son. The way the elderly woman gripped her son, I could tell she was so scared to keep walking forward as the waves kept crashing her fragile body, afraid to fall again. But her son, with his back to the waves, kept walking backward and gently kept pulling his mom one step deeper into the water into the calm part where she could swim after walking through the shallow waves.
And I broke down into tears watching the beauty of this moment, of a son's protection over his mom, helping her battle the waves and how much that parallels our individual walk with Jesus, God's son, battling our own waves of life for us. I immediately thought of 2 Corinthians 9:9-10:
"But he said to me, "My grace is enough for you. When you are weak, my power is made perfect in you." So I am very happy to brag about my weaknesses. Then Christ's power can live in me. For this reason I am happy when I have weaknesses, insults, hard times, sufferings, and all kinds of troubles for Christ. Because when I am weak, then I am truly strong."
Shortly after seeing the elderly woman and her son, I knelt down, grabbed a shell, and simply wrote "Thank You Jesus" in the sand just so overwhelmed and thankful for the reminder in that moment. And then I kept running, with little Rhettster by my side.
Here's a
TwitPic
of my fluffy running partner I just had to share. He might be small, but he ran 5 miles with me like the best of them! Such a champ!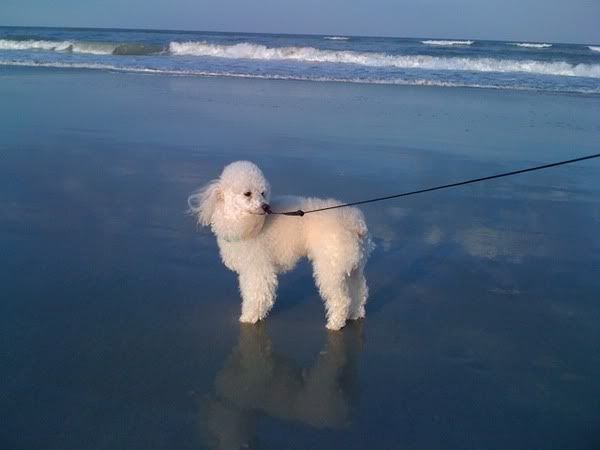 Labels: Personal