Is imitation the sincerest form of flattery?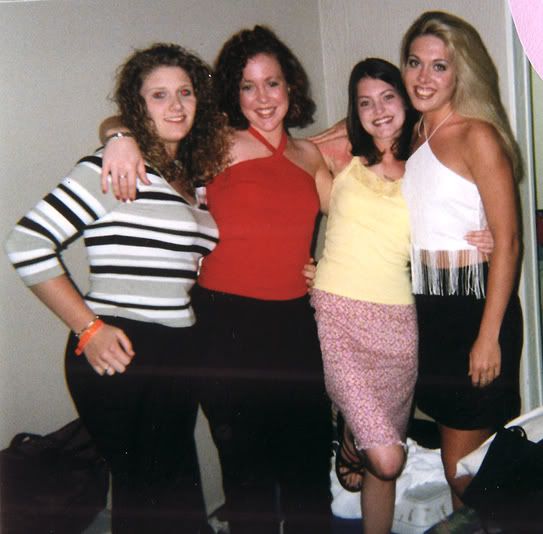 Moi on the right! WHAT was I thinking with the blonde hair and Genie In A Bottle top??
Back in college when I had bleach blonde hair, I had people tell me all the time that I looked like Tori Spelling. I never knew whether to take that as a compliment or an insult. If anything, I was trying to look more like Britney, Christina, Jessica or Mandy, the blonde pop tarts who emerged on the scene in the late 90s, before I realized, ok, God made me as a brunette, I just need to stick with that and be myself.
Now as a photographer, friends continue to email me and point out other photographers who have copied my work or my website. At first, yeah, it annoyed me, but now I'm just trying to look at it as a compliment, I guess? As my wonderful
Mark
would say "It's like water on a duck, babe, just let it roll off of you." :-)
Today I got sent a blog entry from a friend showcasing someone who recreated a promo video very very similar to mine:
http://bladeronner.com/?p=353
Then I googled the photographer,
Lauren
, and found it further interesting that her blog is very similar to mine as well. I'm not doing this to point fingers or diss the girl, she is super cute and does great work, but I did want to blog about this to simply encourage us as photographers to be individual.
I found it funny too that someone in the comments compared me as a knock off of the fabulous
Jessica Claire
(who BTW just got ENGAGED! Congrats girl!). Ha! I think her work is amazing, and I totally love her
ShootSacs
, but this reminds me of story on this exact topic. When I was first starting out, my old logo under
Captivating Studios
used a font that I used for years as a graphic designer before I ever picked up a camera. Very distinctive, I thought I was one of the rare people who bought and owned this font. Then I started my video business, and created a logo around this particular font and things were off to a great start. Then a friend asked, "Do you know who Jessica Claire is?" I was just starting out, so I had no idea what a rockstar she was. They showed me her website and wow, she had the same font I had used in my new logo, and her main color was hot pink like my website was too.
Great minds think alike?
Fast forward to what led to the rebranding of things under Scarlett Lillian Photography because I didn't want people to think I was copying Jessica. As much as I loved the font, it was more important for me to sacrifice it in order to find a distinctive branding look. I turned to pale pink stripes, something inspired by my dining room wall, and chose a whole new font. I stayed up extra hours creating a unique blog template going through the headaches of HTML to get it just right and perfect and different from anything I had seen out there. I was set and ready go.
Next thing I know, over the months, I began getting more emails from friends suddenly seeing pink stripes everywhere and rips from my blog design.
Arg.
All that effort to be unique down the drain.
Since then, Jessica also changed her branding to green, and I went back to hot pink for my colors because that truly has always been my favorite color. I'm not saying anyone can own or trademark a certain color, font, look, etc, but there are a plethora of ways we can use those elements to make ourselves stand out, rather than blend in.
This is also one reason I stopped looking at other people's blogs for the most part. Yes, I'm totally thankful for all of you who read my blog, and I hope it can be an encouragement to you not only for photography but life as well, however I realized early on, I wanted to find my own style of shooting and not subconsciously recreate something I might have seen in passing on so and so's blog. It's one thing to be inspired by others, but there's a fine line at being influenced where it turns to imitation. There is always a way to make something your own.
I guess to look at it on the positive side, it's better to be copied than to copy someone else. But I do believe as creative artists, we need to differentiate ourselves as artists. What I love about photography is that each one of us sees the world a different way through our camera and it is such a blessing to be given the opportunity to use that creative gift to create such a beautiful and memorable product in our clients' lives. So I encourage each of you to ask yourself, what makes YOU unique and build upon that instead! :-)
And funny enough the timing on this whole topic, last night was another all nighter for me as I worked on updated branding for a new portfolio website I'll be launching soon! I'm soooo excited about it and can't wait to show you guys!!!
Labels: For Photographers