Meet my new daughter Maggie!
Yes, I'm one of "those" girls that says her dogs are her children. Even when my condo association yells at me for not having Rhett on a leash, I tell them I shouldn't have to because he isn't a dog, he's my child. Point blank.
And now there is a new addition to the family, sweet Maggie. She's about 3 years old and belonged to a friend of mine who couldn't keep her anymore, so I was excited to take her in and adopt her! When she arrived today in a pink froo froo dress with chocolate hearts, my heart was stolen forever! She's the sweetest most mellow dog and already becoming a fixture in my lap while I work. And Rhett, needless to say, has a HUGE crush already and won't leave her alone! I'm so excited that he now has a playmate for all my long hours at the computer!
So blogger world, meet the newest love of my life, Maggie!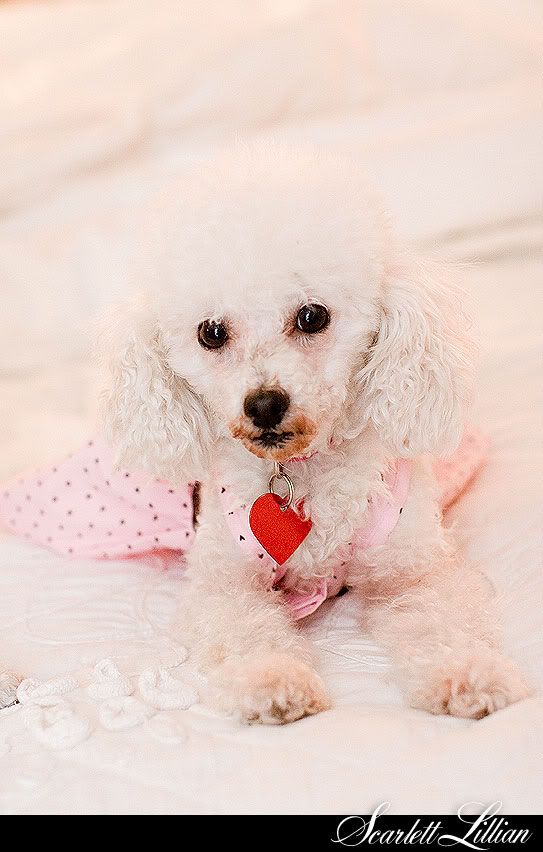 The twins! Except Maggie is a true toy poodle, and though Rhett was sold me as a toy, my vet says with his height, he's actually a miniature.



I mean, seriously, who could resist this face?



Such a princess already!



Self portrait with my babes! (And yes this was like the 20th take! It's hard to get two dogs to look at the camera with a 10 second timer delay, so I gave up!)

Labels: Personal