Shayla and Kyle Engagement TEASER!
Last Monday before shooting an engagement session in Celebration, FL, I had the pleasure of having lunch with two of my favorite gals in the wedding industry, the fabulous Rebecca Grinnals and Kathryn Arce of
Engaging Concepts
. They are expert wedding consultants to the wedding and honeymoon industry, and I have worked with them on various projects in the past through mutual clients like my
Sandals
photoshoot with
Preston Bailey
. It was so great to take time out of our busy schedules to reconnect and gab like girls about weddings, life and everything in between.
Kathryn was so sweet to refer me to her neighbor and friend Shayla whose wedding I am sooooo excited to shoot next month! Kathryn knew Shayla would be a perfect bride for me because of our mutual love of hot pink and fashion. When I walked into Shayla's living room to shoot her engagement session, my heart skipped a beat. I never thought I could fall in love with a living room. From her hot pink velvet wall paper to her patent leather white throne-like chair to the pale pink vintage chaise couch, I was seriuosly in pink heaven. Additionally Shayla is planning a hot pink, black and white wedding to the love of her life, Major League Baseball player Kyle Farnsworth, previously of the Chicago Cubs and New York Yankees.
Here's a teaser pic from their engagement session in the oh so fabulous living room. With how beautifully decorated Shayla designed the house, we stuck around their home for the photos and even played in her closet for a few shots, followed by some fun pictures baking cookies with their kids afterward. Stay tuned for the rest of the session soon!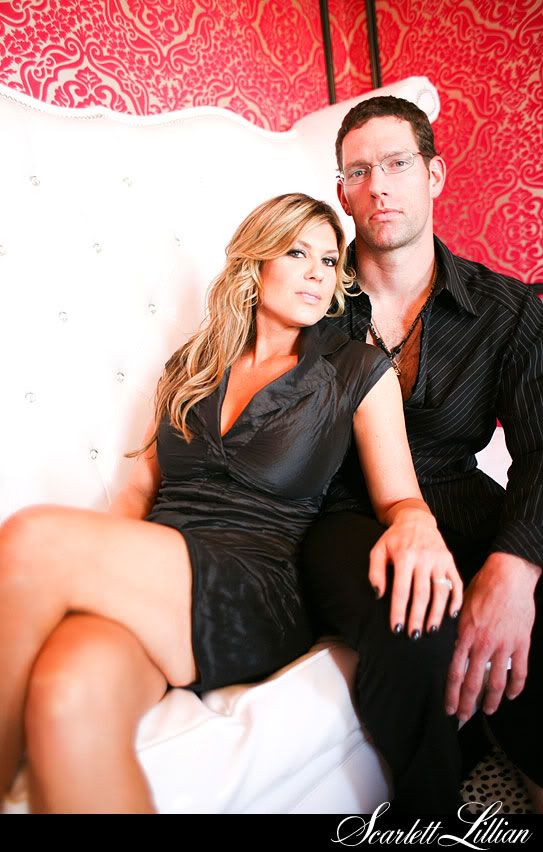 Labels: Engagement