A life remembered.
I was already heading to Orlando for a special engagement session this past weekend, and more on that to come, but first I had to head down a few days earlier for the funeral of my grandparent's beloved friend,
Mr. Seminara
. Mr. Seminara and my grandpa go way back about 60 years to their days in the Navy, way before my grandpa even met my grandma. Then my grandpa and Mr. Seminara married within a year of each other and my grandmother and Mrs. Seminara soon became best friends too! Though their different stations took each of their families all around the world every few years, they both settled in Orlando for their retirement and have remained as close as family to this day.
When I was in college, I produced a scrapbook magazine for both my grandparents and the Seminara's as a special 50th Anniversary gift for each of them and our families. It was a great way to learn more about my own family through the boxes and boxes of photos my Grandma had collected over the years, and I enjoyed the opportunity to get to know the Seminara family through the same experience as well. I collected old photos from Mrs. Seminara's albums and stories from each of her 4 kids to design it all together for a "Family Circle" magazine of their own family. It was through this experience, holding photos over 60 years old in my hands, that made me realize the importance of how photos play such an important part in family history and cherishing loved ones memories.
In looking at the photos of Mr. and Mrs. Seminara on their wedding day, I remember quoting in their magazine the lyrics from a Braid Paisley song,
"All Because Two People Fell in Love"
:
Yea there ain't nothing not affected
When two hearts get connected
All that is will be or ever was
Every single choice we make
Every breath we get to take
Is all because two people fell in love
At the funeral on Saturday, the Seminara kids were so sweet to come up and tell me how much the book still meant to them all these years later, especially in this time of the passing of their father. Mr. and Mrs. Seminara waited a long time to be grandparents, and received their first grandkid in their 70s. They are now up to 7 grandkids and I'm so glad their young grandkids can have the book as well to remember their "Papa" by. It's an honor to have played a part in giving their family that gift. I guess it was only natural that I now have become a wedding photographer documenting two people who fell in love as they set out to start their own family history.
Before the funeral, I took a few photos of my own family. Here's my grandparents with my mom and her two brothers, my uncle Jeff and Chip. They all had to do Jeff's signature pose with the chin. He literally does this in every picture that has ever been taken of him.


A quick shot grabbed of mom and I.



Mom and Grandma lighting a candle of prayer for my dad before the service.



At the end of the day, Mrs. Seminara and her grandkids each released a balloon to Heaven to send up to their Grandpa in his new home. That's Mrs. Seminara's hands letting go of the middle balloon with a cross on it. The symbolism of letting go moves me to tears looking at the photo.



Mrs. Seminara surrounded in lots of little love after the balloon release. Such a sweet photo!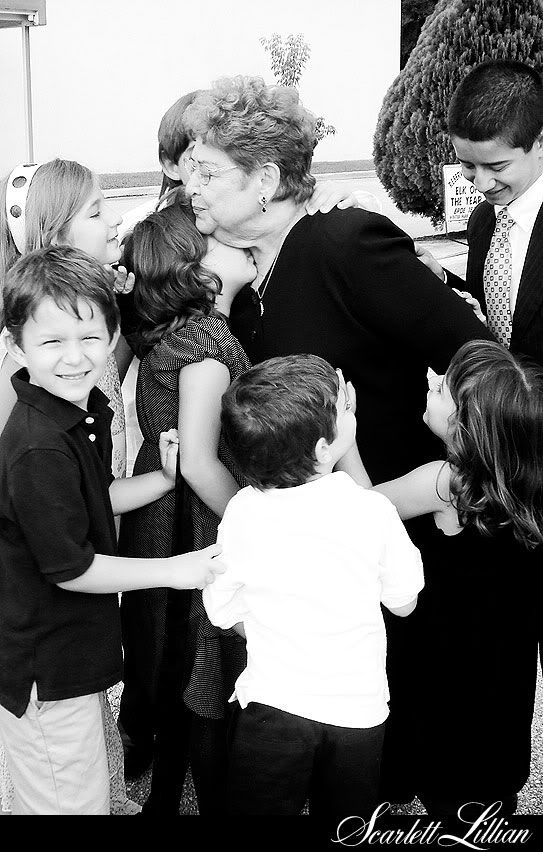 Labels: Personal