My Father the Hero
This past weekend, it was so nice to withdraw from all forms of modern day technology like computers, email, blogging, etc, and step back into the 1960s. I took a road trip with my parents to the small town of Marianna, Fl., right outside of
Campbellton
where my dad grew up. At his old college, they were honoring his old basketball coach, the legendary Milton Johnson, and bringing together a reunion of all the old players that he coached in his lifetime. During my dad's high school days, he was one of those star players under Coach Johnson before they both moved on to to Chipola Junior College. Unfortunately, due to an injury, my dad's basketball college career was cut short. Though he couldn't go on playing, Coach Johnson continued a career of over 800 victories. Not only did Coach Johnson serve as a great coach in my dad's life, my dad has always been thankful for how he served as a great role model setting the foundation of success in my dad's life that he would go on to have in his own career in construction.
My dad has never had copies of his old yearbooks or any childhood photos of him growing up, so my favorite part of the weekend was flipping through all the old yearbooks they had out, and discovering old photos of my dad that I had never seen before. From his chubby cheeks in first grade up to his studly Elvis look-a-like looks in high school, I got teary eyed looking at this piece of my family history I was holding in my hands. It was one of those moments of being reminded why photography is so important, and what an honor it is to serve as a photographer in the lives of so many.
Here are some fun photos from my point and shoot that I took of my dad's yearbook photos!


My dad reuniting with Coach Johnson after 40-something years.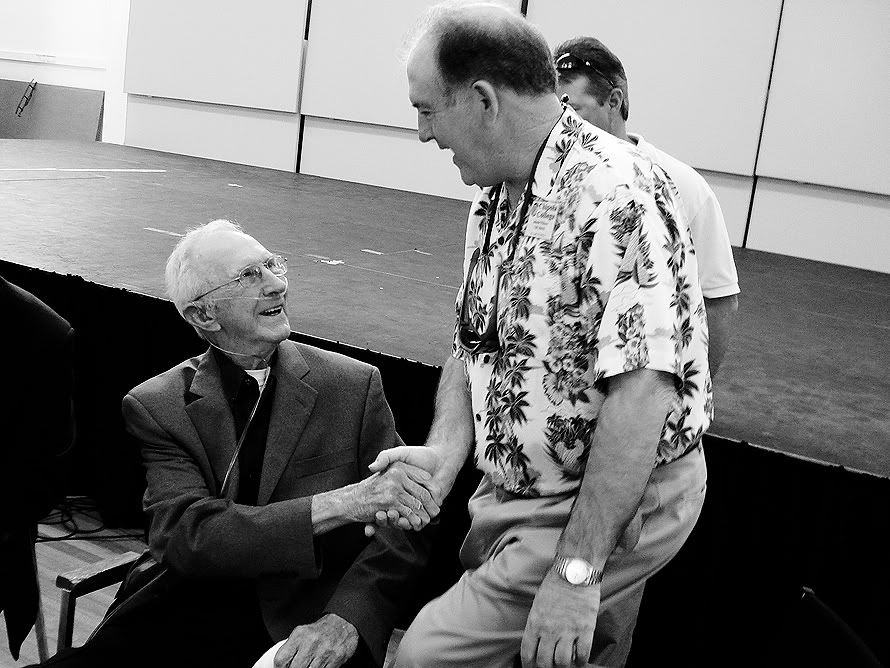 My dad and his "trophy wife and trophy daughter".

Labels: Personal