A long day of shooting.
Wow, I've been doing a lot of writing lately on here. The next blog entry will have real pictures, I promise. I'm almost done editing the Engagement photos from the Dominican Republic and they will follow later today.
In the meantime, I thought I would share these fun Before and After pictures of
Katie
and I shooting the wedding. We got a big laugh about how different we looked from morning to night.
Here is us all nice and fresh the morning before we went off to shoot the wedding. Our make up all glossy, no shine on the face, smelling good, hair in place, big smiles, ready to tackle the day.
Here is us at the end of the reception. Covered in sticky sweat from the earlier day's humidity, oily shine all over our face, rosy red cheeks and noses from being in the sun all day, bags under the eyes, frizzy hair going every direction, exhausted smiles, backs aching. Ready for bed.
Yet, after getting back to the room and cozying up in our bathrobes, the photography nerds that we are ended up staying up until 4am to edit photos! We were just so excited about all the great stuff we got!
But lastly, I love this shot of our feet in the sand while I'm holding
my camera.
Despite the exhausted result of our "after" picture, I adore shooting beach weddings feeling the sand between my toes!!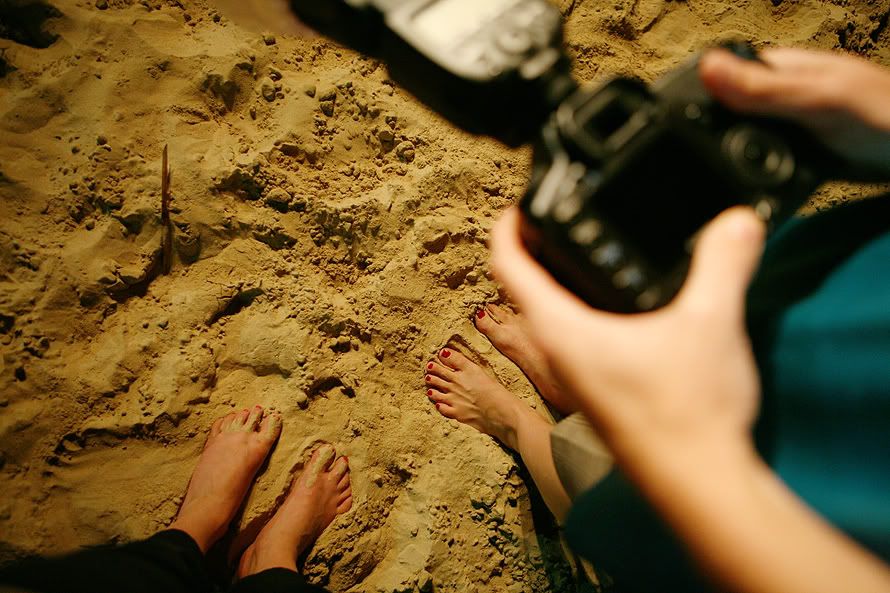 Labels: Destination, For Photographers, Personal