Lessons from the D.R.
I love traveling with
Katie Thurmes.
Our weekend was full of a lot of laughs and new lessons we learned along the way about life in the Dominican Republic. We kept a running list all weekend of all the crazy things we encountered or experienced, and I just had to share it with all of you too.
Things Katie and I Learned in the Dominican Republic:
1. Bring $10 cash for a visitor entry fee tax into the country. They don't take Visa for the tax. Or you could bat your eyes and tell them honest to God you don't have cash on you, and they'll smile back and let you sneak out of the airport. I wasn't lying, I really didn't have cash.
2. If there is a pot hole in the road, the taxi drivers will find it. Book a chiropractor appointment for when you return home.
3. When the locals ask you "Como esta?", don't respond "Tres bien." That is French, not Spanish. Whoops.
4. An all inclusive resort with an unlimited buffet means you will probably have two dinners. Not because you are hungry, but because you can.
5. Flamingos like to hang out in the pool area with the tourists. Donkeys like to munch on trees on the side of the road.
6. Though I live 15 minutes from the beach, it takes flying me to another country to force me to relax and layout in the sun.
7. All inclusive resorts are like cruise ships on land.
8. Just because you have two brunette photographers in one room, doesn't mean they won't have blonde moments.
9. Sliding doors to the patio open from the left to right, not the right to left. Unfortunately it took a maintenance guy to point this out to us when we called them to come fix our door that wouldn't open.
10. If you ask for a frozen drink with Baileys and a banana, you will end up with something pink and fruity.
11. Unlike Florida, the palm trees in Dominican Republic have coconuts.
12. Most weddings, photographers show up smelling fresh and fragranced. In the Dominican Republic, you show up smelling like sunscreen and wearing flip flops.
13. There is a huge language barrier between the locals and tourists. When calling for room service for something to eat, you might end up with shampoo at your door instead.
14. If you have a wedding here, and ask for white roses, you will end up with yellow roses instead.
15. After a meal, it is customary for people living in Dominican Republic to take 5 minutes to sit and enjoy the meal they had.
16. Hot dogs come with lettuce, tomato and onions like a hamburger.
17. Unlike other islands, the Dominican Republic doesn't have a lot of touristy things to do outside of the resorts to truly experience the culture.
18. When traveling with Katie, she will call maitenance, security or room service at least twice a day.
19. I love how British guests at the wedding pronounced my name, replacing the "r" with an "h" to sound like "Scah-lett."
20. When passing local workers around the resort, you hear a lot of "Hola Senorita".
21. The great thing about luxury resorts is that you can use as many towels as you want and they always bring you new clean ones.
22. When the locals ask you were you are from, and you say Florida, they automatically think you are from Miami.
23. The water isn't as teal or calm as I thought it would be. But still beautiful.
24. Dominican Republic light is a more gorgeous backlight for photos than Floridian light.
25. Though two photographers can be in a beautiful place, they neglect to take personal photos for themselves.
26. While most at the resort will stay up until 4am enjoying the nightlife, two photographers will stay up until 4am editing photos.
27. I have a beautiful star in the sky named after me, and Katie is as beautiful as a model because she eats fruit, according to the local servant boys.
Also, I loved this random picture Katie took of me when we were walking back to our hotel room after shooting the wedding. We were walking down this dark road as I pulled our camera gear behind me. I just felt the picture was so symbolic of my life right now, how, even though I am walking down a path full of unknowns ahead of me and I don't have all the answers of where I am heading, God is always there shining
just enough light for each step I am on.
(One of my old favorite books!)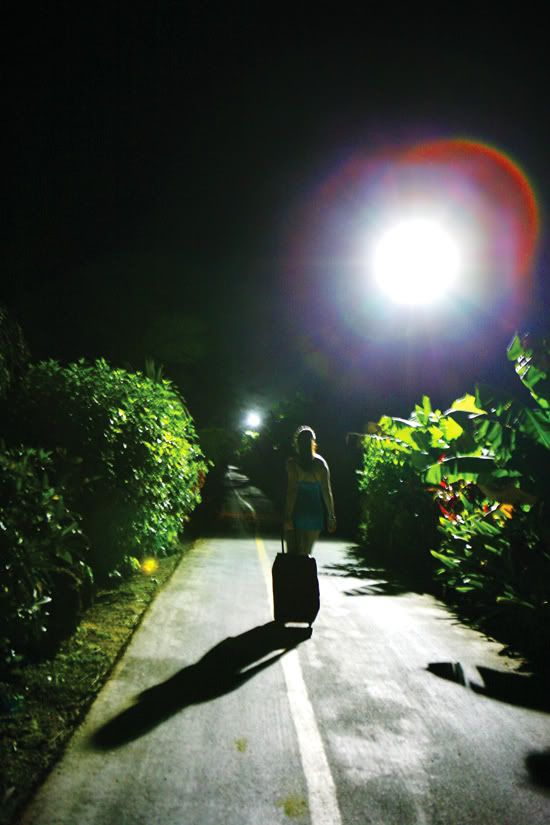 More pictures to come soon of Rob and Krisha's wedding! And a lot of other exciting things unfolding behind the scenes that I can't wait to share with you all in the next few days. Stay tuned!! Right now, I'm playing catch up on email, so if you are waiting to hear from me, I will be in touch soon!
Labels: Destination, Personal